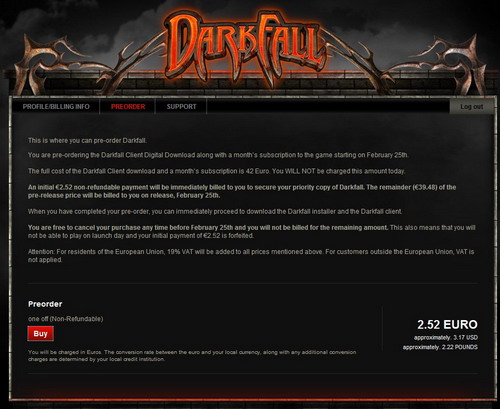 This is where you can pre-order Darkfall.
You are pre-ordering the Darkfall Client Digital Download along with a month's subscription to the game starting on February 25th.

The full cost of the Darkfall Client download and a month's subscription is 42 Euro. You WILL NOT be charged this amount today.

An initial €2.52 non-refundable payment will be immediately billed to you to secure your priority copy of Darkfall. The remainder (€39.48) of the pre-release price will be billed to you on release, February 25th.

When you have completed your pre-order, you can immediately proceed to download the Darkfall installer and the Darkfall client.

You are free to cancel your purchase any time before February 25th and you will not be billed for the remaining amount. This also means that you will not be able to play on launch day and your initial payment of €2.52 is forfeited.

Attention: For residents of the European Union, 19% VAT will be added to all prices mentioned above. For customers outside the European Union, VAT is not applied.
Preorder出来るようになってたので予約してみた。クライアント代は42ユーロ≒5000円ぐらい。Your Darkfall pre-order was successful.と言うメールが届いたもののホントに予約できたのかはこのメール以外からは確認する事ができないので、ちょっと不安

この記事のトラックバックURL
トラックバック機能は終了しました。
トラックバック
Twitter
search this site.
selected entries
recent comment
categories
archives
recommend
recommend
recommend
recommend
recommend
recommend
recommend
recommend
recommend
recommend
Amazon
links
others
mobile
powered
忍者アクセス
忍者アナライズ
PR